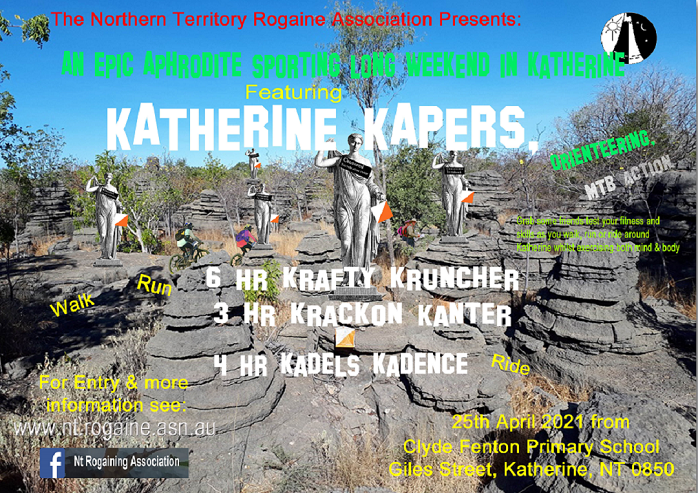 Sunday, 25 April 2021
Katherine Kapers Metrogaine
This event is a metrogaine and uses the principles of rogaining in an urban and surrounding bush setting. Teamwork, strategic planning and map reading are features of the sport.
Teams of 2 to 5 people choose which map checkpoints to visit within a designated time limit, with the intent of maximizing their score. It can be a wild walk, fun run or radical ride as teams plan their strategy and move through the course using the map provided. Great exercise for both the body and the mind!
Katherine Kapers Metrogaine starts and finishes at the Clyde Fenton Primary School at 22 Rapide St, Katherine. The event covers urban and bush environments around the Katherine area.
The registration desk opens at 12:30 pm and the event concludes at 9:00 pm. The course will be undertaken using the MapRun6 app. Each team will need to have at least one smart phone with the app already downloaded – PLEASE NOTE that the name of the MapRun6 user must match one of the names on the team entry form.
Description of event categories:
EVENT (1)
Walk or Run - 6 Hour KRAFTY KRUNCHER
It's not an ab machine – but it may as well be! Get your kraft on with this kruncher event.
Maps out at 1:00 pm. Teams will start at 2:30 pm and must be back by

8:30 pm

.
EVENT (2)
Walk or Run - 3 Hour KRACKON KANTER
To kanter or not to kanter ... just get out there and have a krackon of a time!
Maps out at 1:30 pm. Teams will start at 3:00 pm and must be back by

6:00 pm

.
EVENT (3)
Bicycle - 4 Hour KADEL'S KADENCE
Can you match Kadel's Kadence, pedal peeps? Spin your gears in the Tour de Katherine!
Maps out at 2:30 pm. Teams will start at 4:00 pm and must be back by

8:00 pm

.
Our wonderful volunteer catering team will have a BBQ dinner, cold drinks, fruit and cake available at the Hash House (Clyde Fenton Primary School) between 5:30 pm and 9:00 pm.
What you need to know:
The EXCEL Entry Form is below, or you can find it on the website at nt.rogaine.asn.au.
Select your preferred event on the Entry Form. Complete all of the BLUE sections on the Entry Form. Then email your completed form back to

This email address is being protected from spambots. You need JavaScript enabled to view it.

All entries close at 11pm on Sunday 18th April 2021.
Due to logistics with planning, late entries are unable to be accepted
MAKE IT AN EPIC APHRODITE SPORTING LONG WEEKEND!
Top End Orienteers, NT Rogaining Association and Katherine Multisports Club bring you the following events, ALL IN KATHERINE.
Contact Us:
Email:

This email address is being protected from spambots. You need JavaScript enabled to view it.

Web site: nt.rogaine.asn.au
Phone: 0434 854 020 (Shani)