SECRETS OF THE SOUTHERN TABLETOP - Bush Rogaine
SATURDAY 10th SEPTEMBER
"DON'T LET THE MUGGLES GET YOU DOWN"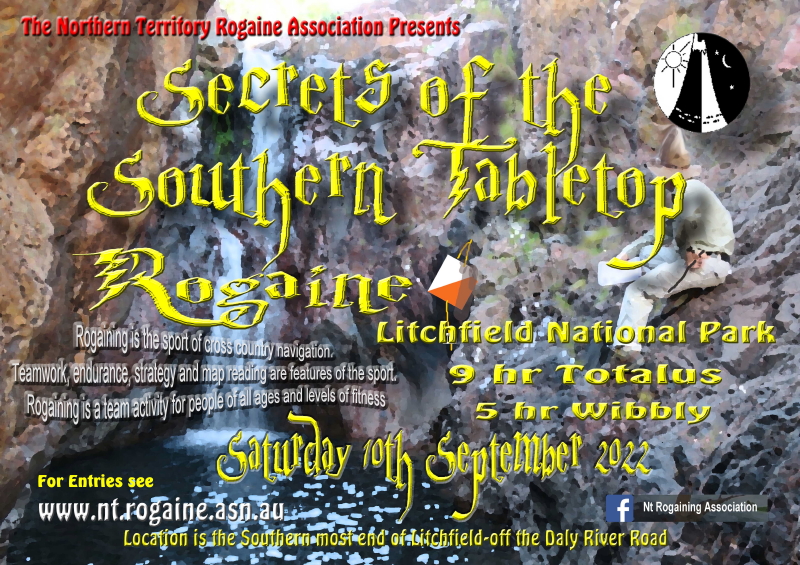 Harry Potter is not the only one with a chamber of secrets. Secrets of the Southern Tabletop is a BUSH ROGAINE set in the beautiful southern section of Litchfield National Park, in a mysterious, rarely explored area, accessible by permit only.
Teams of two to five rogaining wizards will travel entirely on foot (leave your broomsticks at home please), navigating with the aid of a topographic map and handheld compass. Sorcery and GPS devices strictly forbidden! Teams will select their own order of visiting checkpoints, in varied terrain. The bush rogaine includes both day and night navigation. Teams can return to the Hash House for rest, food, socialising and spell casting as often as they wish. The objective of the rogaine is to amass the highest score by finding checkpoints in the bush within a set time limit. (Sounds much easier than a game of Quidditch)!
The Hash House for the Secrets of the Southern Tabletop rogaine is located near to the southern-most boundary of Litchfield National Park. Access is off the Daly River Road. You will need to allow around 2.5 hours to reach the Hash House from Darwin (approximately 180km). Apologies – the Hogwarts Express is not running at the moment.
Choose from two events:
9 Hour TOTALUS ROGAINE
Start at 1:00pm, finish by 10:00pm. It's the total package. Beware though - by the end you may feel as if the Petrificus Totalus spell has been cast over you…
5 Hour WIBBLY ROVER
Spend a maximum of 5 hours on the course, any time within the 1:00pm to 10:00pm window. Can you overcome the jinx of the Locomotor Wibbly?
MAPS OUT from 11:00am. With no available places in the Gryffindor dormitory, there is free overnight bush camping on site instead. (BYO camping gear). DINNER and BREAKFAST are provided. (BYO potions)!
HOW TO ENTER
1) The Entry Form is attached below.
2) Select your preferred event on the Entry Form. Complete all of the BLUE sections on the Entry Form.
3) BEFORE SUBMITTING YOUR ENTRY FORM – all team members must read and agree to the indemnity statement. The statement can be found on a separate tab on the entry form.
4) Email your completed form back to This email address is being protected from spambots. You need JavaScript enabled to view it..
5) Pay for your entry fee via bank transfer:
NT Rogaining Association
BSB: 065 901
Acct: 1055 9967
Ref: Surname SOTST
6) EARLY BIRD DISCOUNT - get your entry in before 11:00pm on Wednesday 31st August.
7) All entries for this event close at 11:00pm on Tuesday 6th September.
DISCLAIMER
Rogaining is an activity which can involve risk of personal injury or property damage. By participating in the activity, each participant acknowledges that the sport of rogaining involves considerable risk and agrees that in entering this rogaine they do so at their own risk.
What is Rogaining?
Rogaining is the sport of long distance cross country navigation. Teamwork, endurance, strategy and map reading are features of the sport. Rogaining is a team activity for people of all ages and levels of fitness, which aims to support and encourage people to develop respect for and enjoyment of rural and bushland environments, and to encourage the development of navigational skills, self reliance, general fitness, and the ability to work in a team.
About the NTRA
Rogaining found its way to the NT in 1999 (about a quarter of a century after the sport's invention in Victoria), courtesy of the energetic Andy Black and David Palmer who organised the first NT rogaine, the Croc and Rock, at Litchfield National Park in August of that year.
With their rogaining experience from southern states, Andy and David spent much of early 1999 battling Wet season humidity, flooded creeks, thick high grass and the almost totally unroaded bush of Litchfield National Park to set the course for what turned out to be an historic (and for many competitors very tough) 24 hour event.